Updated: November 23, 2020
If you're a vegetable gardener who starts plants indoors under lights, it's inevitable that you'll run out of space under your grow lights.
Eventually every gardener buys or is given too many seeds and just can't bear to let seeds go to waste.The end result is more seedlings than you can fit under the grow lights.
Gardeners can always buy more seeds, seed starting mix or seed starting pots, but it's a little more challenging when space under the grow lights runs out. Most are trying to hold out until it's warm enough to transplant seedlings outdoors.
Let's take a sec to get the legal words out of the way. This article may contain affiliate links. That means if you click and buy from my partners, I will make a tiny amount of money at no cost to you. This in no way affects my recommendations.
Six ways to get more space under the grow lights
If you find yourself needing more room under the grow lights, here are six options to alleviate the problem:
1. Add more grow lights. Even the most handyman-challenged individual can build a seedling starting unit for not much money. See how I did it at Build an Indoor Seedling Starting Unit.
Once they have grow lights in place, many gardeners add a second level to their existing unit. Of course, the downside to this plan is that you will now need to consume twice as much electricity to feed what was supposed to be your "green" hobby.
Related: Winter Sowing Made Better
Another issue that may come up is a lack of space to accommodate the extra grow growing space. Not everyone wants to have a room full of grow lights and plants.
2. Build a hoop house or high poly tunnel. According to celebrated vegetable grower Eliot Coleman, using a high poly tunnel will move your garden two USDA zones to the south. In others words, you can move your seedlings outside sooner.
If you're interested in this strategy, see my comparison of Hoop House Kits to get a sense of the cost and the features.
Obviously, a high poly tunnel (another name for hoop house) is a significant commitment of time and money. Many kitchen gardeners don't have the backyard space for a hoop house. Although, once they've lived with one, most hoop house owners wouldn't be willing to give it up.

3. Use a south facing window. Although natural light from a south facing window is a good supplement to a grow light, it's often not strong enough to be the only light source.
This is especially true if there's a screen over the window, which cuts down on the available light. It sometimes works, but more often than not, your seedlings are sun starved and get leggy.
You want to be sure that you put a greenhouse in a place that gets enough direct sunlight even after the trees grow taller.

— Suburban Hobby Farmer
4. Assemble a miniature hoop house. It's pretty inexpensive to build a small hoop house if you don't have to deal with high winds or even snow.
If you do, weather can be a problem. One year, a late season snow storm collapsed my makeshift hoop house on April Fool's Day.
Still, it can be a very good option for growing plants until the good weather starts. Keep in mind that, depending how you design it, watering potted plants in a low ceiling hoop house can be difficult – especially in cold weather.
Here's a video that inspired me to build a small hoop house. It shows how to build one for not much money.
5. Build or buy a cold frame. A cold frame with a little "head room" is a great option for continuing to grow mature seedlings.
A cold frame will often stay warmer than a high tunnel. This is because there's less air space for the sun to warm.
Plus, cold frames sometimes use glass as an insulator rather than a poly cover. As you might expect, glass insulates better than plastic in most cases.
Related: How to Grow Carrots in the Winter
A cold frame placed next to a south facing wall will stay warmer at night and you can add a blanket if the temperature drops beyond the warming capacity of the cold frame.
6. Spend a fortune on a greenhouse. A full-fledged green house is pretty expensive for most backyard gardeners, but that doesn't mean that we can't dream. This is especially true for one that has a heat source built in.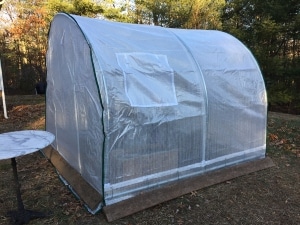 All my articles on hoop houses, cold frames, indoor growing, winter sowing and more!
One downside of a green house is that it's difficult to move, so you want to be sure that you put it in a place that gets enough direct sunlight even after the trees grow taller. A small hoop house, on the other hand, can generally be moved easily with two people.
Of course, once you find room to grow all those seedlings, the next challenge you'll face is to find room in your garden for all those plants. Buying more land can be an expensive proposition.
Related articles that might interest you:
Suburban Hobby Farmer is a participant in the Amazon Services LLC Associates Program, an affiliate advertising program designed to provide a means for sites to earn advertising fees by advertising and linking to amazon.com.