Updated: December 1, 2020
Starting seeds indoors with a seed starting light stand can help you save on buying seedlings because you can grow your own.
I especially like the fact that I can grow fully-organic, heirloom vegetable plants that aren't available, at any cost, even from the best garden center.
There's also one more benefit of a seed starting unit that experienced gardeners really appreciate. Growing your own means that you can start them at the exact right time so that your seedlings are at the optimum size for when the weather is right for transplanting.
There's no more need to transplant root bound plants or plants that are too small. Your plants are grown to your schedule and weather.
Related: I Shopped for Cold Frame Kits. Here's a Review of the One I Bought
Let's take a sec to get the legal words out of the way. This article may contain affiliate links. That means if you click and buy from my partners, I will make a tiny amount of money at no cost to you. This in no way affects my recommendations.
But turnkey seed starting light stands can be costly, especially if you need one big enough to start more than just a few plants.
So I'm going to show you how to build your own expandable, high-quality seed starting light stand, complete with lights, at a pretty reasonable cost.
If you get creative, there's no question you can do it for even less money, especially if your are a DIY pro.
I made the mistake of purchasing aquarium plant lighting for my lighting. I won't do that again.

— Suburban Hobby Farmer
Although it's not the cheapest way possible, my plan for the unit is reasonably priced, easy and fast to assemble. The three main components are:
Lighting a seed starting light stand
The first and most important component is lighting. Even if your plants have access to a sunny south facing window, they will still need artificial light in the winter and early spring.
Otherwise, they will get thin and leggy from not enough light. The sun simply isn't strong enough.
Sellers of indoor grow units claim that you expensive lights for your plants. They tout the benefits of advanced lighting.
You don't need that. Basic LED daylight shop lights will be fine for almost all plants.
I made the mistake of purchasing aquarium plant lighting for my lights, thinking it would be better. I won't do that again. Basic LED shop lights cost less, are energy efficient and are good enough.
Another important component that has to do with lighting is a timer. You're probably going to want a timer to turn the lights on and off when you're not around. I opted for a very inexpensive light timer.
Related: Start Your Tomato Plants in a Hoop House. No lights needed
Some people don't like to put their grow lights on timers. They figure that, without a timer, they'll be forced to visit their plants at least twice a day to turn the lights on and off.
That's one way to help ensure that your plants are getting enough water, heat and tender love and care.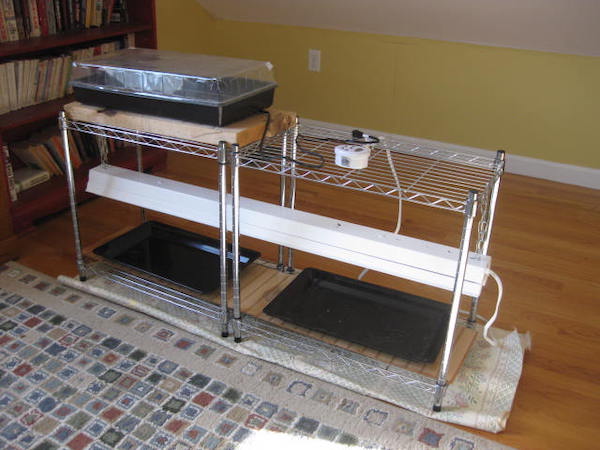 Heating
Often, the best possible germination rates occur when the seed starting mix temperature is between 70 to 75 degrees.
If your growing space is on the cool side, you can usually have much better success if you add a little heat to the seed germination process. I purchased a seed starting mat from Hydrofarm.
Related: Start Your Cucumbers in a Hoop House. No Lights Needed
As an alternative, see this article by David LaFerney on his blog called The Door Garden that shows how to build a great heating unit from small rope lights.
Of course, you'd have to have conventional rope lights because LEDs probably wouldn't give off enough heat to work.
No matter if you build or buy your heating unit, be sure that it's safe. Anytime there's water and electricity involved, I worry about the danger of electric shock. It's not worth taking a chance on something that might be dangerous.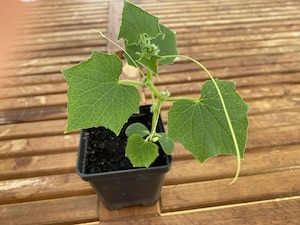 All my seed starting and seedling growing articles in one place.
Shelving
An easy way to suspend the lights over the seedlings is to use chrome shelving. It's waterproof and reasonably attractive. Just hang the lights from the top shelf using s-hooks and chains.
Another way to do this is to stack a table on top of another table and suspend the shop lights using screw-in hooks. I opted for the chrome shelving. It was much easier.
Here's my complete list of items that I used for my seedling starting unit. You can see the cost by clicking on the item.
Heating mat from Hydrofarm
Tarp for protecting the floor from water
Some type of fireproof insulating material for under the heat mat
Trays and plastic milk jugs for holding the paper pots with seedlings
Related: I Shopped for Hoop House Kits. This is the One I Bought
All in all, this is a pretty easy project. When you are finished, you come away with a really nice seed starting light stand. It makes a great gift for the backyard vegetable grower in your life.
Related articles you might enjoy:
Suburban Hobby Farmer is a participant in the Amazon Services LLC Associates Program, an affiliate advertising program designed to provide a means for sites to earn advertising fees by advertising and linking to amazon.com.