If you are interested in worm composting (aka vermiculture), this article is for you.
This is the third in a series of articles on the lessons I've learned from maintaining a worm bin.
See Worm Composting Not So Easy, Part I and Part II to get the background on my worm bin, including some of the lessons that I thought I had learned, but now realize were incorrect. Then come back to this article to get the good stuff.
Let's take a sec to get the legal words out of the way. This article may contain affiliate links. That means if you click and buy from my partners, I will make a tiny amount of money at no cost to you. This in no way affects my recommendations.
The main point of the series, however, remains true. Worm composting is more difficult than the experts make it out to be. This article will help you avoid the mistakes that I made.
Worm composting, so easy a child could do it
Not long after I published the first two articles in this series, there was a tweet that really got my attention. Colleen Vanderlinden, the co-author of Edible Gardening for the Midwest, tweeted that setting up a worm bin was so easy her five-year-old could do it.
Since I had been having worm bin difficulties off and on for about two years, I was a little worried. I was tempted to ask Colleen if her five-year-old could help me out ;). Just kidding. Colleen has a great step by step guide that turns setting up a bin into child's play.
The Situation
After doing quite well for a while, my bin started to become too wet and mucky. The worms were crawling up on the side of the bin. They wanted to get out of the material they were supposed to be eating.
They would eat a little, then crawl up the bin, then go back down when they were hungry. Many spent most of their time on the side of the bin.
One of the tell-tale signs of a problem was that my bin was draining quite a lot of leachate (the liquid that results when the worms eat).
I thought that was a good thing. It indicated that they were eating. Also, some worm bin sellers claim that the liquid is a good liquid fertilizer. More specifically, they said that it is good for plants and is similar to compost tea.
However, the consensus among worm composting experts is that leachate pouring out of the bin means that I'm over feeding, and there isn't enough bedding. Plus it isn't very good for plants and should only be poured onto your regular (not worm) compost pile.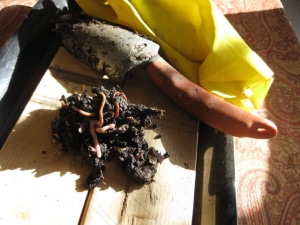 Another problem area was that the worms were not eating the bedding. All I was getting was worm castings stuck to strips of paper.
Two Changes
To restore my bin back to good health, I made two changes:
First, I've added more bedding in the form of thin (instead of fat) paper strips. More paper should help change the nitrogen to carbon ratio, making the material more palatable to the worms.
It also will allow the worms to get more oxygen. Thinner strips should make it easier for the worms and other little creatures in the bin to break down the paper more easily.
Second, I stopped feeding the worms for about three weeks. This lets them process the food that's already there.
The bin is now a lot less moist. No more leachate.
I've started feeding them again. But only a little bit of food every few days, which I add in a nest of paper strips in one corner. Also, the food I am adding has been composted a bit even before I add it to the bin.
The worms seem much more healthy and are no longer crawling up on the side of the bin. There's also some young worms in the bin. Still, it seems to be taking a long time for the worms to break down the material. Plus, there aren't nearly as many worms as there were about six months ago.
I know a lot of people can get more out of a video than just a post on this kind of thing, so here's a short video showing the state of the bin currently.
Related articles that might interest you:
Suburban Hobby Farmer is a participant in the Amazon Services LLC Associates Program, an affiliate advertising program designed to provide a means for sites to earn advertising fees by advertising and linking to amazon.com.