Tumbling compost bins are convenient. I've been using a 60-gallon compost tumbler for more than five years. I can see why they are popular, but there are disadvantages, too.
People don't realize that composting in a pile on the ground is often faster. If you are considering a rotating compost bin, you should consider all the pros and cons.
Let's take a sec to get the legal words out of the way. This article may contain affiliate links. That means if you click and buy from my partners, I will make a tiny amount of money. This in no way affects my recommendations.
You can sometimes tell if something is high nitrogen or high carbon by the color of the material, but not always.

— Suburban Hobby Farmer
Here's what I've learned about making compost from both methods.
My composting process
Over the years I've developed a composting process that shortens the time it takes to get finished compost by months. The process has five steps:
Place the tumbler where it gets the most sun, so that the compost will heat up as much as possible.
Load my tumbler with herbivore manure, green weeds, table scrapes, leaves and other plant materials. I never put meat, dairy or oils in the barrel.
Balance the green (high nitrogen materials) and brown (high carbon materials). The optimum is 40% green to 60% brown.

You can sometimes tell if something is high nitrogen or high carbon by the color of the material, but not always. Greens – which include fruit (usually not green), vegetables, and manure (brown) — are typically high in nitrogen. Browns – which include saw dust, mulched leaves and straw — are typically high in carbon.

Most of the time I struggle to have enough greens to balance out the browns. But this year was different because I collected table scraps all winter. This gave me a head start on greens.

As a result of the overabundance of greens, my tumbler smells a little right now. It's probably because it has too many coffee grounds in it. I've started to re-establish balance by adding some of last fall's mulched leaves, but I don't want to put too many leaves in too quickly because even mulched leaves will take too long to break down.
I try to keep the moisture in the barrel the same as a wrung out sponge.
I rotate the barrel once a week.

If you spin it too often, the barrel doesn't heat up because rotating temporarily releases the heat from the center of the pile. If you rotate it too infrequently, you have the same problem because the microbes don't get enough air.

Once a week seems to be the right timing.
Related: How to Compost Faster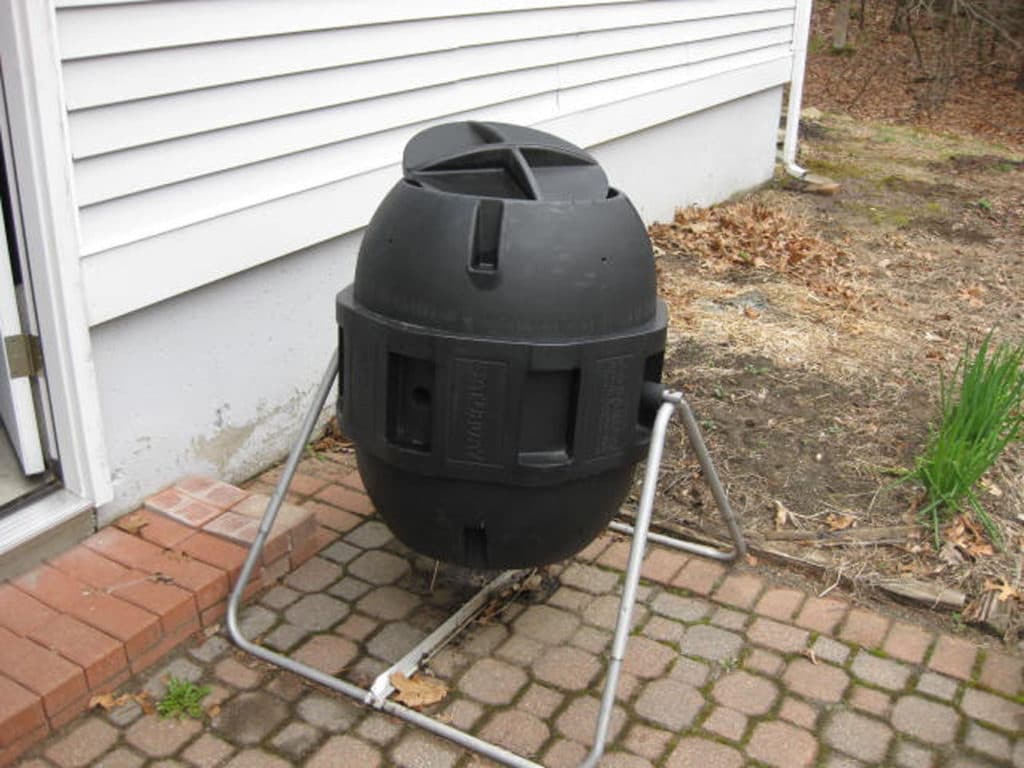 Hot compost from tumbling compost bins
My barrel does get noticeably warmer than the outside air. This is partially due to microbes creating heat. But also it is because the black plastic barrel captures heat from the sun.
Unfortunately, it doesn't heat up enough to kill weed seeds. I still have plenty of weeds that come from my compost.
The compost probably doesn't heat up as much as I'd like because the barrel simply doesn't hold enough material. I'm not sure any tumbling compost bin is big enough to reach critical mass for really hot compost.
Related: How to Make Compost in a Chicken Coop, In Other Words, "Deep Litter"
In Summary
Here's a summary of the tumbler versus the ground pile:
Rotating compost bin advantages
No need to turn the pile to get air into it. Just rotate the barrel.
Animals can't get inside and drag food scraps all over the yard. This is especially important in the winter when a compost pile is popular with scavengers.
The sun heats up a black plastic composter, so the pile reaches cooking temperature faster.
It's easier to control the amount of moisture inside the bin.
Rotating compost bin disadvantages
A compost pile on the ground breaks down faster. I'm not sure why, but it probably has to do with the microbes and worms being able to come and go as they please.
Tumblers are limited in the amount of material they can hold.
Tumblers typically cost more than homemade compost bins, even if you make the tumbler yourself.
Related posts you might enjoy: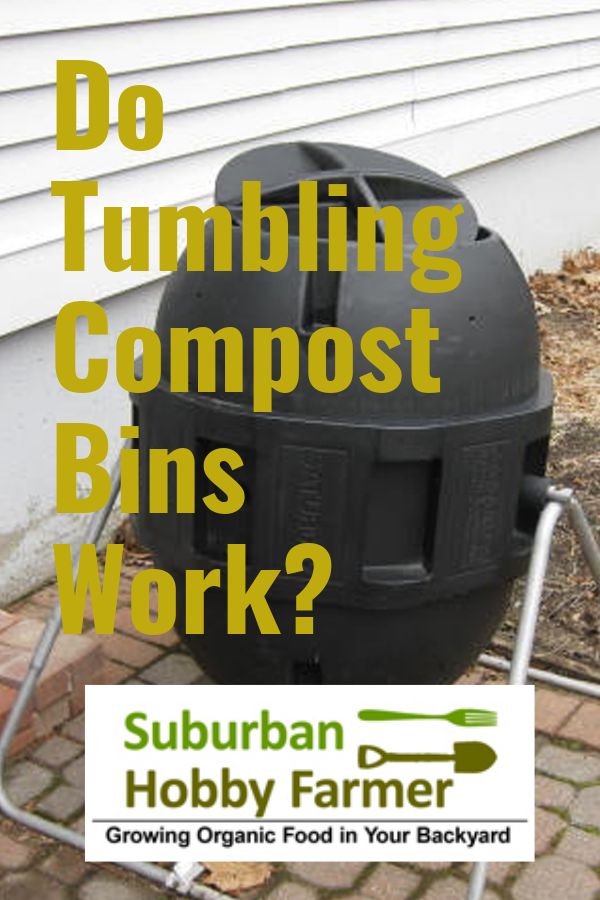 Suburban Hobby Farmer is a participant in the Amazon Services LLC Associates Program, an affiliate advertising program designed to provide a means for sites to earn advertising fees by advertising and linking to amazon.com.