Updated: March 25, 2020
Although many vegetable growers are familiar with the benefits of mulching raised garden beds, there's one benefit that's not well known.
First, let's look at what's common knowledge about mulching raised garden beds. Backyard gardeners know that mulching can:
Retain moisture and reduce the required amount of water.
Prevent weeds from growing by blocking sunlight.
Contribute organic matter to the soil as the mulch breaks down.
Reduce plant diseases by preventing soil from splashing on plants.
Keep soil cooler when it's too hot.
Trap bad bugs in the soil and prevent them from getting at your plants.
Still, there is one benefit NOT listed above that that will be new to even some experienced gardeners. Let me take a minute to explain.
The top layer of soil in a raised bed typically has some of the highest amounts of nutrients and organic matter. This is especially true if you top dress your raised beds with compost or organic fertilizer.
Related: What's the best material for raised garden beds? The answer is surprising.
Let's take a sec to get the legal words out of the way. This article may contain affiliate links. That means if you click and buy from my partners, I will make a tiny amount of money at no cost to you. This in no way affects my recommendations.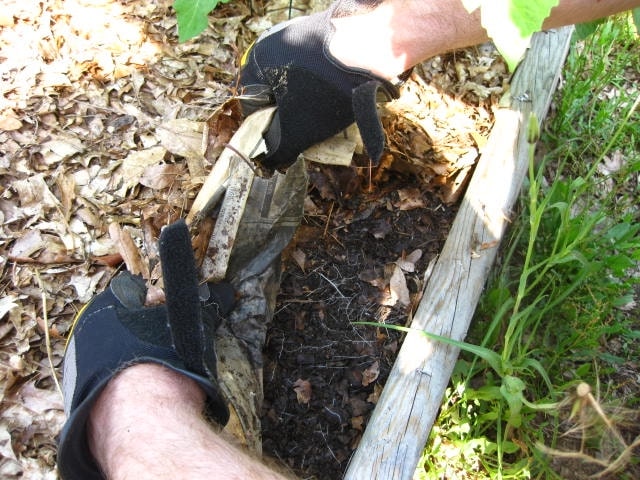 But plants often can't access this top layer because it's too dry. Mulch can make it possible for plants absorb nutrients from the top layer.
Without mulch the top layer normally dries out. Roots either don't grow in this area or can't take up nutrients because of the lack of moisture.
Mulch lets plants grow right up to the top of the soil because the mulch keeps the top layer from drying out. The photo above shows tomato roots growing right under the surface of the mulch.
Mulching raised garden beds is great for your plants
This extra inch or two of growing room can be great for your plants. In my case, I'm always struggling to find enough low cost organic soil amendments.
I never seem to have enough good top soil in my beds. (Can you ever have enough?) This is especially true for some of my beds that have natural granite bedrock sitting not far below the normal surface of the ground.
But mulch isn't right for all situations. It can:
Keep soil temperatures too cool.
Encourage slugs.
Change your soil to an undesirable pH.
Promote mold (especially wood chip mulch).
Attract voles.
Voles are the worst. Mulch makes it easy for them to dig and tunnel near your plants that they like to eat. This is especially true when digging outside of the bed is difficult because of rock or hard packed soil. Voles like to make it easy on themselves by tunneling in soft garden soil.
If you are lucky enough not to have trouble with voles, mulching is a great option.
I use black and white newspaper covered with mulched oak leaves for my mulch for my tomato plants. This makes for a great weed barrier. Plus, it keeps soil moist.
I wait until after the ground has warmed before I put it down. Then I remove it at the end of the growing season because I don't want my soil pH to become too acidic, which oak leaves will do if too many make their way into the soil.
In some areas, gardeners don't use mulch because it promotes slugs. Fortunately, we don't have very many slugs in southern New Hampshire, so I don't have this problem.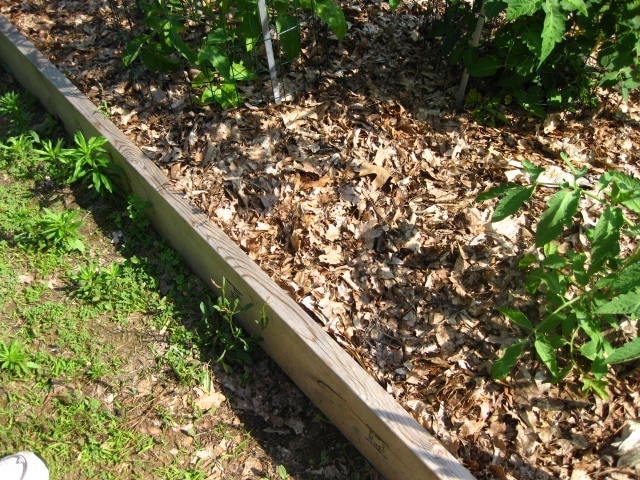 Options for mulch
Thankfully, you have a number of (sometimes free) options for mulch. Some are more appropriate for certain environments. Some shouldn't be used in certain cases. Your options include:
bark chips
coffee grounds
compost
grass clippings
leaves
newspaper
straw
wood chips
If you have not mulched your raised garden beds, why not give it a try?
Related articles you might enjoy:
Suburban Hobby Farmer is a participant in the Amazon Services LLC Associates Program, an affiliate advertising program designed to provide a means for sites to earn advertising fees by advertising and linking to amazon.com.