The very best potting bench for you is the one that has all the features you need.
Just recently I was in the process of researching potting benches so that I could buy one for my garden. I suddenly realized that you might benefit from my research and learn from my experience.
Table of Content
This is a long, detailed article. You can jump to where you want to be by clicking on the different sections below. To come back to this table of contents, just use the back button on your browser.
If you're still in the process of trying to figure out IF YOU NEED a potting bench, let me point out that most vegetable growers benefit greatly from having one.
If you're older like me, a bench means that you don't need to bend over, squat or kneel because your pots, plants, seeds, etc are at "working height."
In addition, you can always use additional storage space for pots and hand tools, and a bench with shelves and enclosed storage keeps you organized.
For my needs, I only looked at benches that:
Are weather resistant because mine will be outdoors
Resist insects because my last bench got chewed on by termites
Look attractive because the garden is my happy place
Related: How to make your own sterile potting soil for indoor plants, a six-step guide.
Let's take a sec to get the legal words out of the way. This article may contain affiliate links. That means if you click and buy from my partners, I will make a tiny amount of money. This in no way affects my recommendations.
The Best Potting Benches
Below are the best benches I found during my research. There are several that are easily available and have a number of features that might be appropriate for your specific needs and your situation.
---
Best Overall
Best Choice Products
This is the potting bench I bought. I liked it because it has the features I need.
It has a convenient "dry sink" for mixing soil. This is great for making soil blocks, which I do frequently when starting seeds. You can expand the working surface by pulling the table top out.
Keep in mind, however, you must paint this bench to protect it from the weather and termites. This is because it is made of fir wood, which is somewhat soft and will break down over time.
I painted mine forrest green to fit with the rest of my garden and backyard.
---
Best for Storage
Yahettech
This potting bench's best feature is it has a storage cabinet that protects your stuff from the weather. The cabinet is ideal for storing smaller pots.
Plus, the drawer allows you to store your hand tools nearby.
The work surface is metal plated. Other than looking cool, I'm not sure what the benefit is of metal plating.
I guess it would protect the softwood work surface from scrapes and dings. More importantly, the side hooks are helpful for keeping your hand tools close and assessable.
Finally, this bench comes in three finishes. This is important if you don't want to take the time to paint or stain your bench.
---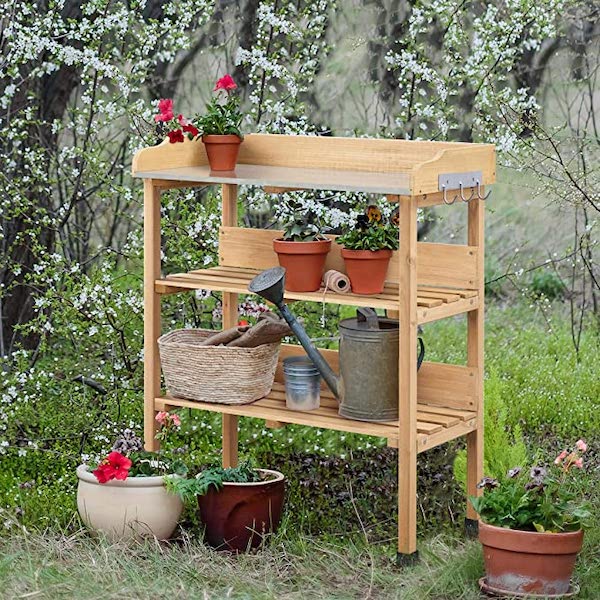 Best Value
Yahettech
For those who want to keep expenses low, this potting bench is a less expensive version of the Yahettech version above.
It keeps the price low by providing less working area and no cabinet or drawers. Moreover, the owner will have to paint this bench so it will last.
It does, however, have hooks and storage shelves, plus a metal plated work surface. Metal plating will probably help it to last longer in the sun and rain.
---
Best Splurge
Lee Display
This sturdy redwood unit has all the features plus plenty of charm. The repurposed redwood will naturally weather so it'll look gorgeous on your patio or garden for many years.
Four black iron castors will allow you to easily move it to the ideal place. The galvanized steel table top is a hard and durable work surface.
This amazing bench also features a towel holder, three tool hooks and two shelves.
---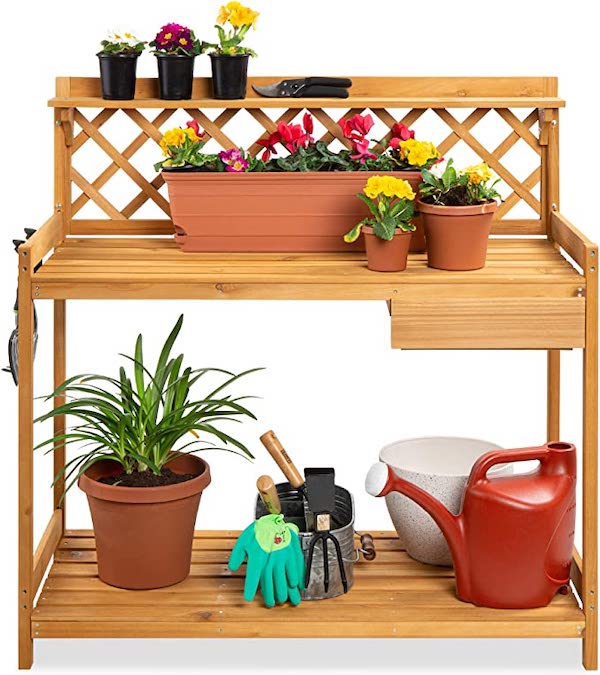 Best Lattice Bench
Best Choice Products
If you are into lattice in your garden, this is the bench for you. The stained and weather-sealed firwood makes for an attractive look.
This compact unit fits in smaller spaces. But the bottom shelf boasts an impressively large 100 pounds weight capacity.
The cabinet drawer will allow you to keep hand tools off the working surface, but still within reach.
---
Most Shelf Space
Giantex
This inexpensive bench gives you a ton of shelf space for the price. Plus, a back panel on the shelves makes it so that your stuff won't fall off the back.
It has an elegant yet simple design, which fits with most garden decor.
The Iron hooks allow you to store hand tools near the work surface. Like some of the other benches, this one features a metal work surface to protect the wood from scaring and staining.
---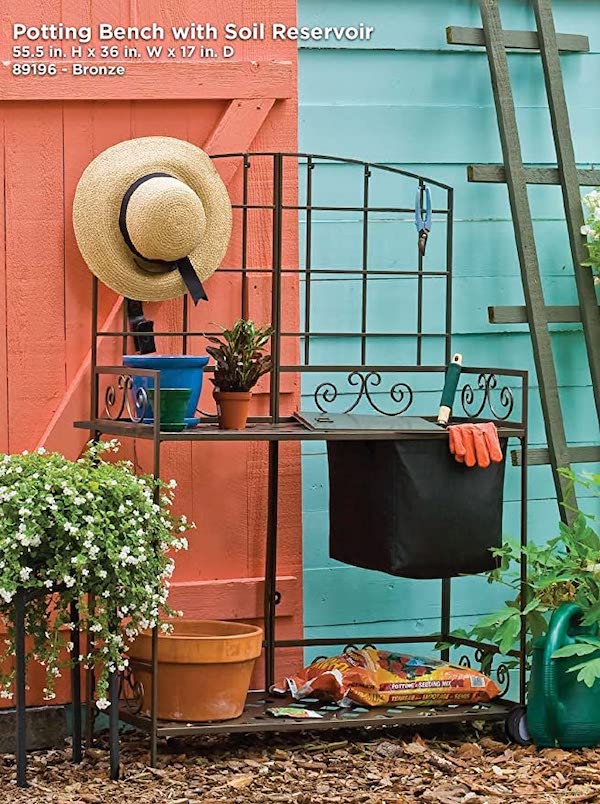 Best Metal Bench
Outsunny
This bench features a soil well for mixing potting soil. The metal rod iron look could be the one you need to fit with your garden decor.
The dark color brings a natural look to the bench. The metal construction adds sturdiness for many years of use. Plus, you will never have to paint it.
Because it is made of steel, it naturally resists damage from insects. You may want to consider this bench if you have termites in your area.
---
Most Cabinet Space
GDLF
Is it a tool shed or a potting bench? Both! It's a hybrid. Seriously, you can store all your hand tools in this bench.
It comes in natural wood finish or a grey finish.
Best of all, the waterproof cabinet will keep tools and potting soils dry. So if you are looking for extra storage space for your garden, this may be the bench for you.
---
Best Portable Bench
Suncast
If you're looking to move your potting bench around your garden, this one's for you. It has all the same features as the other garden benches, but also has easy to use wheels.
It may not be the most charming bench, but it features plenty of space for tools, shelves for storage, a reservoir for mixing soil, and a large work surface.
Made a durable resin, there's no problem if you leave it out in the rain. It will last for years.
One of my potting benches got chewed on by termites.

— Suburban Hobby Farmer
---
Best Drawers
Homestyles
This solid, water-resistant potting bench is made of durable and sustainable acacia wood. It features a teak finish and is sealed with linseed oil.
Stainless steel, locking casters will allow you to move it into place. Top notch features include two slatted shelves, a towel bar and six hooks.
The hardware is stainless steel for rust proofing and easy clean up. Quality drawers allow for easily accessible storage of hand tools.
Related: How to Get Rid of Gnats on Seedlings Without Poisons.
---
Potting Bench FAQ
Are potting benches useful?
Yes. Very useful. They provide a "potting work surface" and storage for hand tools and pots in either an outdoor setting or inside where you don't mind getting a little dirt or mud on the floor.

Potting plants is a little messy. A potting bench helps you control it.
What is the best material for potting benches?
The best material really depends on what you most want in from a bench. Maybe you're looking for an outdoor bench that will stand up to the weather and insects. Then a resin bench is best.

On the other hand, resin benches don't have much charm and often may not fit with the way your garden looks.

If you're looking for something that looks fabulous, weathers nicely and stands up to the elements, teak is maybe your best choice. But it's very expensive. Other good materials with these characteristics are cedar, ipe, mahogany and white oak.

Staining or painting softwoods, e.g., fir, will help protect the bench from weather and insects.

Composite woods are also a good choice. These are made of a combination of wood and resin.
What should you consider when buying a potting bench?
It all depends on how you plan to use it. If all you need is a work surface, you might be better off buying a table.

If, on the other hand, you want to store hand tools, pots and soil, you need a potting bench with shelves, hooks, drawers and even a cabinet with doors. Some potting benches are almost storage sheds!

When storing manure, e.g., chicken manure pellets, it's a good idea to have an outdoor potting bench with a cabinet that will keep the bag out of the weather and won't smell up the garage or house.

If mice can access a potting bench, you may want to avoid having drawers or cabinets. Otherwise citters will want to nest there. A drawer is a very attractive nesting place for a mouse.

If you plan to use your potting bench outside, you will want to select a wood or resin bench that holds up to the weather and insects.

Finally, a sink or soil well for holding and mixing soil is helpful especially when you need to add soil amendments to soil before potting.
Should you store your garden tools in a potting bench?
A waterproof drawer or cabinet in a bench is an ideal place to store your hand tools. They will be close by when you are potting up plants.
How much storage should a potting bench have?
A potting bench is a handy place to store hand tools, pots and soil amendments. So get one with as much shelving and storage as possible. Gardeners can never have enough storage.
Does a potting bench need a sink or faucet?
Your potting bench should have access to water nearby. You'll need water when potting plants or making soil blocks.

You may also want to add water to liquid fertilizer, too. But a bench with a faucet is not really necessary, unless you find it much easier to wash your hands with a faucet.

If you get a facet for washing hands, you may want a towel holder, too.
What's the right height for a potting bench?
A potting bench is a lot like a kitchen counter. Typically, you are standing when working at the bench. So it should be about three feet off the ground.
What problems do you have with outdoor potting benches?
I have had mice build nests in a potting bench cabinet. I have had termites chew on the legs of a bench that was in my hoop house.

Like most any furniture that lives outside, the weather takes a toll on it over the years. But for the most part, my potting bench has been a worthwhile investment. It's given me many years of enjoyable service.
Should you look for anything special when using soil blocks with potting benches?
When using a soil block maker, it helps to have a large work surface, a tub to hold the seed starting mix and water nearby. I also like to have a thin paint scraper for getting under the soil blocks and moving them around without damaging the plant roots.
If you mix soil amendments into your soil, what features should a potting bench have?
It's helpful to have a sink or soil well when adding soil amendments to your potting soil. This is so that you can mix it up right at the bench.
Can termites be a problem for wooden potting benches?
I have had termites eat at the legs of my potting bench when it was in my hoop house. So yes, they can be a problem.
Other articles you might also like:
Suburban Hobby Farmer is a participant in the Amazon Services LLC Associates Program, an affiliate advertising program designed to provide a means for sites to earn advertising fees by advertising and linking to amazon.com.