Updated: October 14, 2020
This is a guest post by Nancy Lowe from Oak House Permaculture.
I've been experimenting with a technique called 'chop and drop' as a way to improve my very poor soil quality. This technique, which I learned from Australian permaculture expert Geoff Lawton, acts to fast track the natural processes that help to build deep, humus-rich soils.
Over here at Oak House, despite living out in the lovely green English Shropshire Hills, I often feel like I might as well be working an old city centre brownfield site.
Most of my land is covered in concrete or gravel. This is quite a challenge as a starting point for growing fruit and vegetables!
Related: How to Use Chicken Manure Pellets.
Unsurprisingly, my food growing involves lots of soil improvement. My latest soil improvement technique is chop and drop.
What is chop and drop? The name says it all.
You grow fast growing, nutrient gathering plants. Once they've grown to a decent size, you chop them down and drop them to the ground.
Then the plants continue growing, and you chop them back down. And so on.
Chop and drop mimics fallen leaves
The fallen plant material makes up a deep litter layer, mimicking the layer of fallen leaves you get under woodland trees.
Just like in a woodland, this fallen material becomes food for all your soil-making bugs and beasties, who convert it into lovely, rich soil.
I'm also using comfrey, which has very deep roots and is great at bringing up trace minerals from deep in the soil.

— Oak House Permaculture
Next time you're in some woods, dig around under the fallen leaves and you'll see what I mean – a fantastic, dark, moist, crumbly soil.
This soil is the foundation of the most productive type of natural system on the surface of the planet: woodland. It's the best kind of soil to aim for if you're after a productive garden.
It's what I'm working to build up here, using my chop and drop technique.
But I'm tweaking nature's way slightly. By this I mean I'm being selective about the plants we're chopping and dropping.
Let's take a sec to get the legal words out of the way. This article may contain affiliate links. That means if you click and buy from my partners, I will make a tiny amount of money at no cost to you. This in no way affects my recommendations.
My goal is to maximize soil nutrients, especially nitrogen, potassium and phosphorous. This is important when you're growing food and, if like me, building soil from scratch.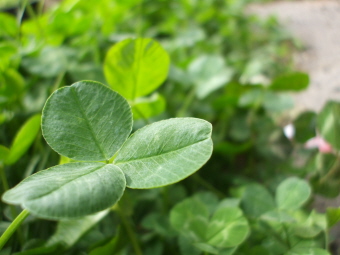 Best plants for chop and drop
We're using clover and vetch, both of which 'fix' nitrogen, a nutrient essential for leaf growth.
Nitrogen is extracted from the air and stored in nodules in the plants' roots. I regularly chop the plant tops off, which causes the roots to die back and release stores of nitrogen into our very poor soil.
I drop the plant tops on top so they can break down, adding organic matter to the soil.
I'm also using comfrey, which has very deep roots and is great at bringing up trace minerals from deep in the soil. This is important because the roots of some garden plants don't grow very deep in the soil.
Related: Three Important Soil Building Techniques
Comfrey also gathers up nitrogen and phosphorous, but is particularly good at accumulating potassium – good for fruiting crops.
I've just planted young comfrey plants out by some of my fruit trees. Next year, when these plants have got big and strong, I'll start chopping and dropping them to help maintain the soil fertility around my fruit trees.
Nancy Lowe lives in Shropshire, UK. She writes about her experiments with soil reclamation, organic gardening and permaculture design on her blog Oak House Permaculture.
Related articles you might enjoy:
Suburban Hobby Farmer is a participant in the Amazon Services LLC Associates Program, an affiliate advertising program designed to provide a means for sites to earn advertising fees by advertising and linking to amazon.com.