Updated: May 18, 2020
Few investments are more practical for backyard gardeners than a rain barrel with a gutter downspout diverter. If you have a good sized garden, harvesting water from your rooftop can:
Save on your water bill, particularly where rates are high
Allow you to conserve water or continue gardening during a watering ban
Provide chlorine-free, nitrogen-enhanced water for your plants
Stop soil erosion from fouling brooks, creeks, streams and vernal pools
Table of Contents
This is a long, detailed article. You can jump to where you want to be by clicking on the different sections below. To come back to this table of contents, just use the back button on your browser.
Why a gutter downspout diverter?
If you live in an area where temperatures drop below freezing, you need to consider how to shut down the rain barrel system in winter. Otherwise, the barrel will freeze and break.
A downspout diverter makes it easy to revert back to your original, winter-ready gutter system. Plus, if you set it up right, a diverter will automagically divert water back to the gutter system to prevent the rain barrel from overflowing.
Let's take a sec to get the legal words out of the way. This article may contain affiliate links. That means if you click and buy from my partners, I will make a tiny amount of money at no extra cost to you. This in no way affects my recommendations.
As DIY projects go, installing an automatic gutter diverter is an easy one – even for someone who is NOT great with tools.
You can use a rain barrel without an automatic downspout diverter. My father-in-law does, but he lives in Florida where he never has to shut down his barrels due to ice. He has a manual diverter with a daisy chain of several barrels and no cellar, so he's not concerned with the barrels overflowing and water getting into his cellar.
Related: Info on Rain Barrels and Accessories.
Rain barrel downspout diverter guide
I suspect that downspout diverters are available offline in stores in areas where water is less plentiful. In my area, where water is plentiful and cheap, they are not available in brick and mortar stores. You can only get them online.
To make it easy for you to pick a diverter, I've provided a handy guide to the most popular products. I've only looked at automatic diverters and not manual options that require you to switch the water flow from the rain barrel to the gutter system manually.
Two important considerations are the:
Size of your gutter
Length of the hose you'll need to connect the diverter to the rain barrel.
You need to make sure (1) the diverter fits your gutter and (2) the hose is long enough to reach from the diverter to your barrel.
Here's a review of the some of the most popular downspout diverters:
Rainreserve Basic Rain Diverter
Comments: This is the diverter I've used for 10+ years. There are some improvements that Rainreserve could make to the design. But, all in all, it's a pretty good product.
You can read my product review at My Automatic Downspout Diverter. Some people said that they didn't like the hose that came with the product and have purchased their own.
| Feature | Description |
| --- | --- |
| Hose Length | 6′ |
| Gutter Sizes | 2″ x 3″, 3″ x 4″ |
| More Info / Pricing | Click Here |
Oatey 14209 Mystic Rainwater Collection System
Comments: Unlike some of the others, this diverter has the hose outlet on the side of the box. It makes it easier to connect to the barrel, but may leave more water in the diverter. More water in the diverter could increase the chance of mold or algae growing.
The Oatey is made of UV-Resistant material that you can paint. UV-resistance is important.
| Feature | Description |
| --- | --- |
| Hose Length | 4′ Hi-flo |
| Gutter Sizes | Standard 2″ x 3″ |
| More Info / Pricing | Click Here |
Flex-Drain Catch-A-Raindrop Kit
Comments: The colander design will probably clog with leaves and other debris. There is no way to clear material in the colander without taking the downspout apart. This is a serious issue.
Also, the manufacturer (Amerimax) doesn't provide a hose as part of this kit. Plus, it's not UV- resistant.
One nice feature is having a screw in garden hose fitting on the diverter. This means you place your rain barrel anywhere (must be downhill) and it doesn't have to be close to the Flex-Drain. But since it's made of plastic, you won't be able to tighten it well enough to stop leaking.
| Feature | Description |
| --- | --- |
| Hose Length | None |
| Gutter Sizes | 2″ x 3″ |
| More Info / Pricing | Click Here |
Do you have experience using a downspout diverter. I very much would like to know about what you've learned. Let our community know by commenting below.
Related articles that might interest you: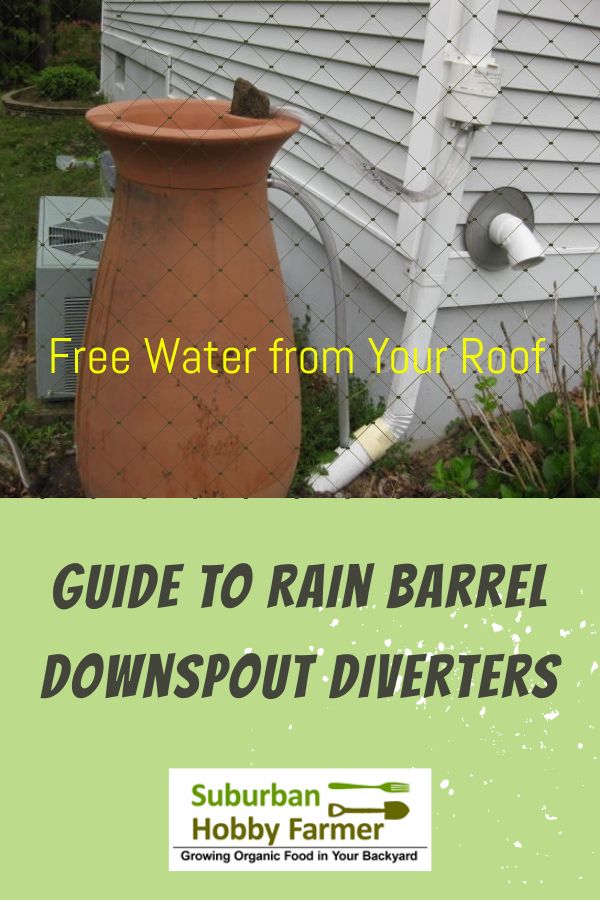 Suburban Hobby Farmer is a participant in the Amazon Services LLC Associates Program, an affiliate advertising program designed to provide a means for sites to earn advertising fees by advertising and linking to amazon.com.