Updated: September 10, 2020
Zero waste gardening is maybe the very best way to reduce, reuse and recycle.
Even when you are not trying to be eco-friendly, fruit and vegetable gardening reduces your consumption of fossil fuels and plastic. By replacing store bought with home grown, package-free food, you are making a helpful contribution to the environment.
Even better, if you are an organic gardener, you're probably also storing carbon in the soil with compost and NOT using synthetic fertilizers that consume fossil fuels during their production.
When it comes to environmentally-friendly hobbies, fruit and vegetable gardening is at the top of the list.
Still, there are painless methods to make it even more "green," move towards zero waste gardening and limit your expenses at the same time.
Here are seven easy, eco-friendly ideas to green your garden, bank more money and have more fun, too.
Let's take a sec to get the legal words out of the way. This article may contain affiliate links. That means if you click and buy from my partners, I will make a tiny amount of money at no cost to you. This in no way affects my recommendations.
Zero waste gardening: starting seeds
1. Start your own seedlings. Vegetable seedlings bought at the big box store or garden center almost always are trucked from some far away mega greenhouse. You can waste less fossil fuels by growing your plants from seed.
If you can't, at least, buy your seedlings from a farmers' market where seedlings are sometimes provided by the local farmer.
2. Go "potless" with your seedlings. What am I talking about here? I'm not saying you could lower waste by not smoking pot when you work in the garden. (Although that might be true). I am saying that some gardeners reduce plastic by using paper pots made from recycled black and white newspaper.
Even better, you can use a soil blocker to create soil pots that use nothing but seed starting mix.
You can learn all about soil pots and paper pots by reading Soil Block Makers Vs. Paper Pots.
Plants that naturally thrive in one location are eco-hogs in another.

— Suburban Hobby Farmer
3. Start seedlings outside instead of under the lights. If weather permits or if you have a greenhouse, hoop house, cold frame or some other method for protecting seedlings from the cold, you can save on electricity and reduce your carbon footprint by starting your seedlings outside.
Even super efficient LEDs consume substantial electricity when they are running 12 hours a day for weeks and weeks.
4. Avoid using peat moss, which is often unsustainably harvested. Coir, which is made from coconut, can replace peat in seed starting mix. You can buy it in brick form at a reasonable price.
Compost makes a great replacement for peat for adding organic material to the soil.
Homemade newspaper pots are as good as peat pots when starting seeds.
Compost is eco-friendly
5. Feed your plants with homegrown compost. Everyone already knows that compost is great for your garden, but it can also be environmentally- and wallet-friendly.
Besides reducing your garden's need for fertilizer (and the associated fossil fuels to transport fertilizer to the retail locations), it also reduces the amount of packaging you consume.
But maybe the most important green benefit of composting is sending fewer yard trimmings and food scraps to the dump. According to the U.S. EPA, yard trimmings and food scarps make up 27.8% of the municipal solid waste stream.
Related: Grasscycling and Composting Grass Clippings
Once you start composting, you almost certainly will want to get more of this very valuable stuff. You can learn more by reading How to Compost Faster.
Planting can be even greener
6. Select plants that naturally thrive in your environment. Before you plant, consider the amount of sun, water and soil pH that your selected varieties will require.
You can reduce the amount of soil amendments and water needed — and the associated environmental impact — by selecting varieties that readily adapt to your un-amended garden.
Plants that naturally thrive in one location are eco-hogs in another.
7. Invest in perennials. In edible gardening, you consume most of the resources when you first put plants in the ground. Once fruit and vegetable plants have had a chance to establish their roots, they are nearly self sustaining.
Perennials may take more investment up front in terms of water, soil amendments and cost. But, over time, they consume far fewer resources, generate no waste and pay back more.
8. Harvest rain from your roof using a rain barrel. It'll save you money on your water bill and the non-chlorinated, nitrogen-enriched rain water is better for your plants.
Plus it reduces excess run off that might otherwise erode soil and pollute brooks and streams with valuable topsoil.
9. Mulch your garden with materials you don't have to buy. Mulching reduces reduces the need to water. Plus, it can almost completely reduce the need to weed.
I use black and white newspaper covered with leaves to mulch my raised garden beds. This mulching system completely eliminates the need to weed, and drip irrigation under the mulch cuts water consumption dramatically.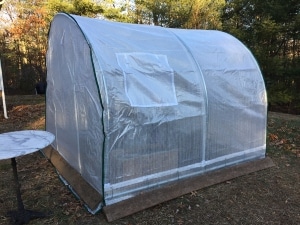 All my articles on hoop houses, cold frames, indoor growing, winter sowing and more!
Newspaper and leaves are both "naturally occurring," free resources at my house, so there's no fossil fuel consumed to transport them to my garden.
Even if you only use one or two of these gardening tips, you will be generating less waste and consuming fewer earth resources. As I mentioned earlier, a fruit and vegetable garden is one of the very best ways to reduce waste.
Related articles that might interest you:
Suburban Hobby Farmer is a participant in the Amazon Services LLC Associates Program, an affiliate advertising program designed to provide a means for sites to earn advertising fees by advertising and linking to amazon.com.