Updated: September 28, 2020.
To create this GrowVeg review, I signed up for the GrowVeg.com Garden Planner seven-day free trial. What follows is what I learned from using the trial. With this information, you can decide if the GrowVeg.com Garden Planner is right for you.
One thing you should know is that as soon as I signed up for the trial, I started receiving emails from GrowVeg. I received one email a day.
These emails provided videos and links to guides for both using the GrowVeg planner and general gardening information.
If you're not fully committed to creating a very comprehensive garden plan, you will likely feel overwhelmed with the frequency and quantity of materials you receive.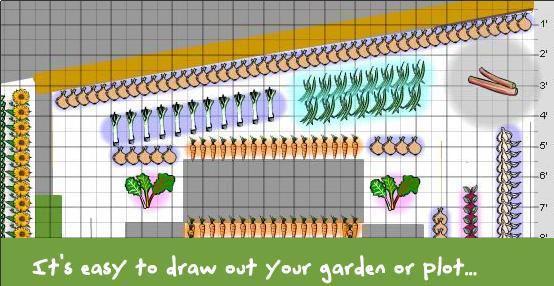 Let's take a sec to get the legal words out of the way. This article may contain affiliate links. That means if you click and buy from my partners, I will make a tiny amount of money at no cost to you. This in no way affects my recommendations.
What is the GrowVeg.com Garden Planner?
It is software that makes it easy to create comprehensive plans for your backyard garden.
The software runs over the Internet. You use it via your computer browser (but not on your phone).
There is nothing to download or install on your computer.
At the heart of this garden planning software are icons that resemble specific vegetables or herbs.
First, you simply draw your garden plots or raised beds on the computer. Then you drag the plant icons to the appropriate location in your garden.
You can drag the individual icons to create nice looking rows that indicate where and how much you plan to grow.
It's easy to expand your plant rows or areas. If you make a mistake, just delete the icons and put something else in its place.
GrowVeg review: what are the best features?
GrowVeg has a ton of capabilities. Here are the features that I found most helpful:
All the plants you plan to plant. GrowVeg provides a plant list of plants you are going to plant. It includes plant spacing, planting dates and approximate harvest dates for each plant on your list. This info is tailored to your specific location based on your frost dates.
Remembers what you've grown. This feature helps with crop rotation. By keeping track of where you grew each vegetable for the last five years, it helps you decide how to rotate your crops. Plus, it warns you when you try to insert a plant from the same plant family in the same location as you did a previous year.
Planting reminders. GrowVeg sends you email reminders when it's time to plant each vegetable. This includes when to plant seeds indoors under the lights and outdoors for direct sowing. You will never have an excuse to miss a planting date again.
Share your plans. You can share your garden plans within their community. While I didn't find this terribly helpful, I did like looking at other people's plans, especially those in my area. You can learn from other gardeners.
Model Irrigation. Not only can you model all your growing locations, but you can include drip irrigation in those locations. GrowVeg lets you include detailed plans for irrigation. For example, you can plan out where the lines go and where the drip nodes fall.
Succession planning. It can get confusing trying to remember all the various successions of each plant. GrowVeg takes into account succession planning when it provides planting dates.
GrowVeg review: what I didn't like
Probably the biggest issue with GrowVeg is if you don't continue to pay the subscription price year after year, you will not have access to the software or your historical plans.
In short, this is a yearly service. You can't just buy the software and use it year after year.
An alternative to GrowVeg
My GrowVeg review wouldn't be complete without mentioning other garden planning software products. Garden Companion is another option.
What's nice about Garden Companion is that you buy the software and never have to buy it again.
You can learn more about Garden Companion here.
GrowVeg pricing & the free garden diary
The current price of GrowVeg.com Garden Planner is:
$29 for one year
$49 for two years
Of course , this pricing could change at any time.
Although not part of GrowVeg Planner, the company does offer a free garden journal tool. Keeping a journal is probably the best way to learn from your errors and not repeat unsuccessful strategies year after year.
Related articles you might enjoy:
Suburban Hobby Farmer is a participant in the Amazon Services LLC Associates Program, an affiliate advertising program designed to provide a means for sites to earn advertising fees by advertising and linking to amazon.com.