Updated: March 21, 2020
I love the fact that chickens can eat weeds, including dandelions, as part of a balanced diet that includes other green forages, seeds, fruits and animal feeds.
Isn't it ironic that many of the weeds that are so hated by so many suburban home owners can replace some of the purchased chicken feed in a chicken's diet.
Let's take a sec to get the legal words out of the way. This article may contain affiliate links. That means if you click and buy from my partners, I will make a tiny amount of money. This in no way affects my recommendations.
Can chickens eat weeds? Absolutely
Harvey Ussery, author ofThe Small-Scale Poultry Flock, is a big fan of reducing the amount of chicken feed you need to buy and replacing it with natural, homegrown foods.
Ussery suggests that you encourage your flock to eat weeds and other foods available naturally on your property, as well as foods you grow for them. He calls this home feeding.
The author makes the case that home feeding is more nutritious, sustainable and, best of all, saves the flock owners gobs of money.
In addition, he points out that if you take seriously recent and future changes to the economy and the resulting upheaval that some are predicting, you probably already find dependence on purchased feeds concerning.
Options for home feeding
Fortunately, there are a multitude of options for reducing your dependence on purchased chicken feed, all of which fall into four previously mentioned food groups: green forages, seeds, fruits and animal feeds.
The green forages group is the one I find most interesting. An optimum diet for chickens should include many different types of greens, for example:
cover crops
grass clippings
excess garden vegetables
weeds
Not only are weeds as an important, free food source, they make an important contribution to your chickens' health. One reason why I think wild greens make really good chicken feed is they contain anti-cancer compounds and other important nutrients that can't be found in any of the "domesticated" chicken feeds.
These compounds make their way into the eggs and meat and onto your table, making you healthier.
Another important point is chickens will eat many weeds like dandelion, lamb's quarter, nettle, burdock and yellow dock, which are higher in protein than even alfalfa, the typical high-protein fodder crop.
Dandelion as chicken feed
Dandelion plants are an especially interesting chicken feed. As you probably know, the dandelion tap root grows deep into the subsoil. As a result, they accumulate important minerals not provided by other foods.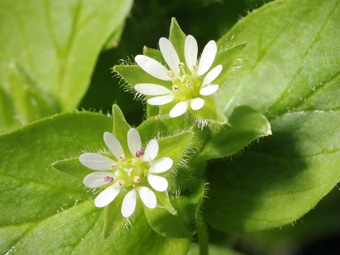 It's pretty cool that removing dandelions and other weeds from your garden can also provide very valuable green fodder for your chickens.
Keep in mind, however, chickens should eat weeds while they are still fresh because time is the enemy of important nutrients. The chickens also will enjoy them more.
What weeds can chickens eat
The only catch is that some plants are poisonous to chickens. So it might be best to limit your "weed feed" to the following plants, at least to begin with:
Prickly lettuce
Dandelion
Lamb's-quarter
Yellow dock
Chickweed
In his book, Ussery makes the point that the goal of weed feeding should be to introduce a wide variety of green forages in order to balance mineral content.
So you might want to introduce other weeds into your chickens' diets slowly, trying out each new one while you are watching carefully for adverse effects. That way, over time, you will build up knowledge of what your flock likes and doesn't cause any problems.
Do you feed weeds to your chickens? What do they like? Let us know by commenting below.
Related articles you might enjoy:
Suburban Hobby Farmer is a participant in the Amazon Services LLC Associates Program, an affiliate advertising program designed to provide a means for sites to earn advertising fees by advertising and linking to amazon.com.