Updated: August 17, 2020
Anyone interested in the book Heirloom Apples of Uncommon Character probably has a story something like mine in their past.
My first experience with an heirloom apple tree came during our family's hunt for a Christmas tree. While it's true, apples and Christmas don't usually end up together in the same story, this one makes perfect sense.
In November, many years ago, the farm where we cut our Christmas tree allows people to reserve one six weeks or so before Christmas. We decided to take advantage of this and reserve a tree.
While my wife and kids scoured the field for the perfect shaped Balsam Fir, I spotted a craggily, old apple tree among the Christmas trees. It had a few leftover fruit on the ground.
I wandered over to see if I could identify what variety it produced. Then I picked up the best looking apple for a closer look.
It was nothing like anything I'd seen before, so I took a bite. Still crisp in the middle of November, it had a spicy, sweet, tart flavor that wasn't even close to any other apple I'd had before.
When sliced in half, Redfield's flesh is bright red with a white core, making it look almost like a starburst.

— Suburban Hobby Farmer
Here was something new.
Let's take a sec to get the legal words out of the way. This article may contain affiliate links. That means if you click and buy from my partners, I will make a tiny amount of money at no cost to you. This in no way affects my recommendations.
Before that day, I thought I knew apples. After all, I grew up with eighteen trees in the backyard and a neighborhood full of apple growers.
One neighbor had so many grafted varieties coming out of a single tree that he had lost count. But, as good as some of these apples were, they were nothing like the one from that old tree from the Christmas tree farm.
Ever since then, I've been on the lookout for old heirloom trees. In the northern New England suburbs, you can find them all over the place.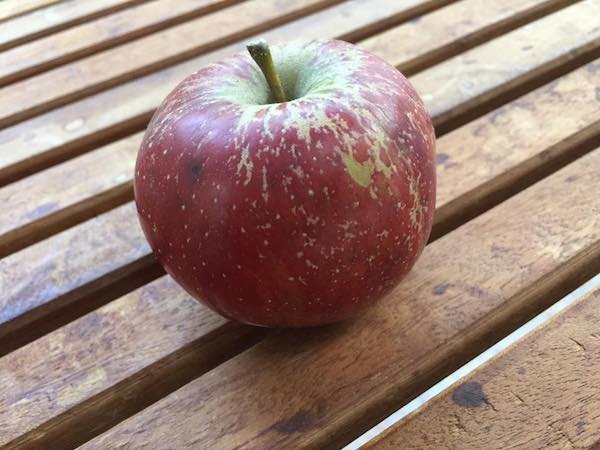 Putting a name to an heirloom apple tree
But once you find an old unique tree, how do you identify it? That's where Rowan Jacobsen's Apples of Uncommon Character comes in. The book gives you a good shot at finding the name for an unusual apple.
Related: How to Grow Blueberries
Between the covers of Apples of Uncommon Character, you'll find more than 120 ordinary and not so ordinary varieties.
Each apple page is accompanied by a beautiful photo. It's the kind of thing that apple lovers will enjoy leafing through to see what catches their eye. Some of the varieties that caught my attention were:
Ashmead's Kernel: A plain, ordinary-looking apple that's sort of like a Granny Smith with a "wild child" flavor. It "pushes the extremes of honeyed sweetness and racy acidity." Clearly Jacobsen added Ashmead's Kernel due to its taste.
Roxbury Russet: "The oldest American apple, having sprung up on a hill above the Massachusetts Bay colony. It was already popular throughout southern New England in the 1600s."
Redfield: A cider apple tree that has startling pink flowers etched with white squiggles. When sliced in half, the apple flesh is bright red with a white core, making the inside look almost like a starburst.
The backyard apple grower interested in grafting new varieties will want to own Apples of Uncommon Character. It will help you identify new grafting specimens and a wish list of apples you'll want to add to your own trees.
Grafting to relieve apple envy
If you are like me, you will find an unheard of apple and wish you could grow it.
But getting apples from a newly planted tree takes sometimes a decade or more. Of course, that's only if you find a place to buy the tree in the first place.
On the other hand, if you already have an apple tree and can find one with the type of heirloom apple you want, you could always graft the new variety onto your existing tree.
Grafting is a way of taking one variety and changing it so that it can grow a second variety. I've seen trees with as many as 15 varieties of apples growing from one root system.
You can learn more about grafting new varieties to mature trees in this video:
Areas of disagreement
While Jacobsen's Apples of Uncommon Character is enjoyable, it is not everything I wish it to be. Take his treatment of the often maligned Red Delicious.
It's true that a store bought Red Delicious is always awful. These apples are as Jacobsen describes "zombie taste, and a zombie future."
But what he doesn't consider is that the old fashion Red Delicious is different from what's grown for supermarket store shelves today.
Grown under perfect conditions, the old fashion version can still have the qualities that made it the most frequently purchased apple back in the day.
Related: How to Grow Carrots in the Winter
I know, for example, that when you harvest Red Delicious after a first frost (in September), the fully-ripe apple can develop veins of pure apple sugar throughout its flesh. Under these conditions, it's a fruit that is truly worthy of the term dessert apple.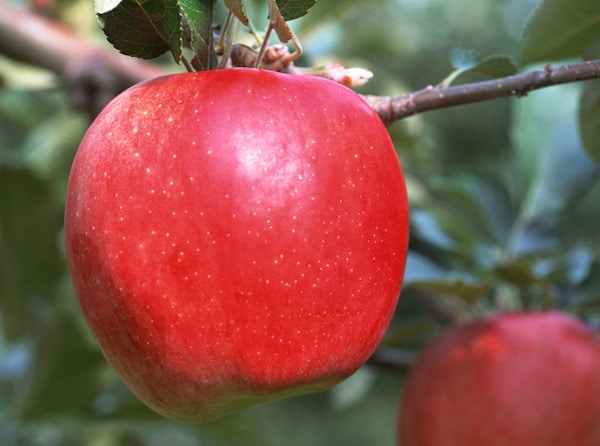 More photos of apples
Another way that Jacobsen's book could be better is if he included more photos of apples.
The book's one big, beautiful photo of each apple makes for a great artsy, coffee table book. But when you're trying to figure out which apple you have in your hand, a single photo doesn't provide enough info.
Still, the heirloom apple aficionado can't help but enjoy this book. It's fun to peruse from one apple to another, hoping that someday, somewhere you'll get to taste some of these not-available-in-supermarket varieties.
Other articles from SHF you might like:
Suburban Hobby Farmer is a participant in the Amazon Services LLC Associates Program, an affiliate advertising program designed to provide a means for sites to earn advertising fees by advertising and linking to amazon.com.