Updated: June 22, 2022
Do wildflowers attract beneficial insects? Absolutely!
There's a sloped section of ground that sits in between my two groups of raised beds that I use for wildflowers. The soil there is mostly construction dirt, and the incline encourages erosion. So growing grass in this area is nearly impossible.
To make it easier on myself, I let this area grow wild. The weeds and wildflowers don't seem to mind the bad growing conditions.
Each year the soil gets a little better. Plus, we get an increasingly wide variety of wildflowers that attract all kinds of pollinators and insect predators.
I don't know if it's because of the wildflowers, but pollination in the garden is almost never a problem. In addition, it's fascinating to relax for a second and watch all the insects go about their soap opera lives.
What do I mean by "soap opera lives?" One bug is always chasing another bug away from a wildflower, or trying to eat another bug or making a nest to lay eggs. It's very entertaining.
Special Wildflowers for Beneficial Insects
Where I live in Southern New Hampshire, the beginning of summer features a list of four wildflowers that have blooms that are especially attractive to beneficial insects. The variety of good bugs in and around these wildflowers is dizzying.
Moreover, these wild and domestic bees, hoverflies, parasitic wasps, etc. are frantic to get as much nectar from the flowers as possible.
Let's take a look these special plants:
Yarrow
Daisy Fleabane
Milkweed
Black-Eyed Susan
Let's take a sec to get the legal words out of the way. This article may contain affiliate links. That means if you click and buy from my partners, I will make a tiny amount of money at no cost to you. This in no way affects my recommendations.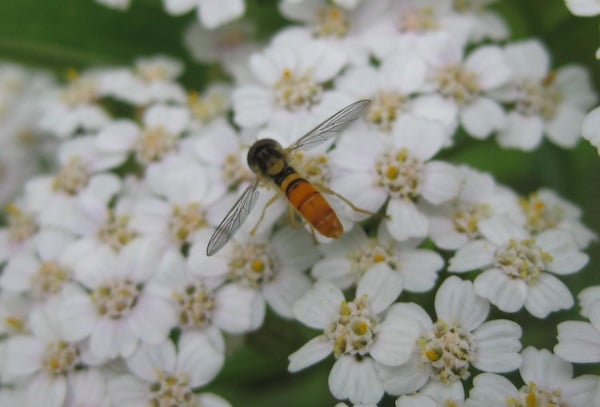 In the wildflower world, Yarrow has a lot going for it. Its flowers are an important source of nectar for beneficial insects.
As a bonus, you can use the plant as an anti-inflammatory, antiseptic and astringent.
But that's not what caught my eye. What I found most surprising is that Yarrow is reputed to stimulate plant growth when used as a companion plant.
I was thinking, since it's drought tolerant, maybe it would make a great cover crop? I don't know.
But the main reason I like it is because it attracts parasitic wasps and hoverflies in droves to my garden. Although the flowers are tiny, it seems to allow insects of all sizes to feed from the blossoms.
This wildflower loves poor soil and construction dirt. It's an annual wildflower that, left to its own devices, will self seed very close to the parent plant. This makes it seem like a perennial.
Small bees, pollinating flies and, on occasion, small parasitic wasps will come to feed on its nectar.
The name fleabane suggests that the plant deters fleas, but this is a myth. Daisy Fleabane is more of an insect attractant than a repellent.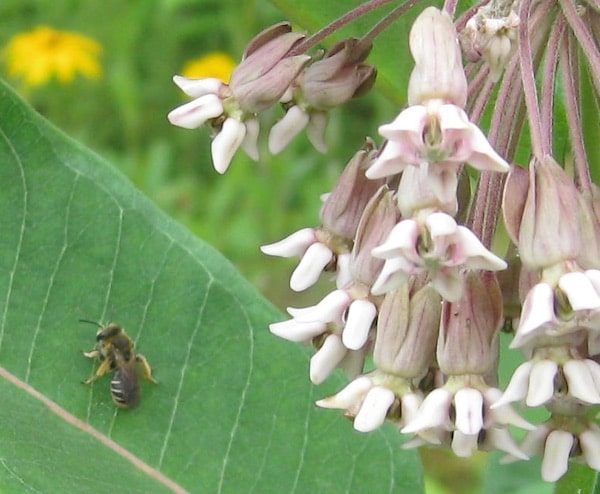 Of the four wildflowers, my neighbors may like this one the least. I can just hear them say: "Why would you let that grow on your property? It even has weed in its name!"
Still, native bees and other nectar-loving insects seem to flock to Milkweed. They're often frantic to gather nectar from its clumps of flowers.
The variety in my yard (common milkweed) has pink flowers and loves to grow in pine bark mulch. It spreads along runner roots more than from its feathery seeds.
Of course, Milkweed is maybe most famous for the fact that it is the only plant that that Monarch butterfly caterpillars will lay eggs on. That said, I've seen no dramatic increase in Monarchs since the Milkweed took hold in my yard.

A true biennial, Black-Eyed Susan doesn't flower until the second year of life. It's also very aggressive and has taken over much of my wild area.
Far from rare, Black-Eyed Susan may be the most common wildflower. Still, it's a favorite of native bees and larger parasitic wasps.
Plus, its big showy flowers contrast nicely with the smaller wildflowers.
Wildflower cost … next to nothing
It costs me next to nothing to let this patch grow every year. I mow it much less often and only occasionally cut out woody shrubs and small trees.
It's well worth it to be able to take a break while gardening and watch all kinds of insects perform aerial dynamics as they frantically try to collect the nectar before the blossoms close.
Plus, there's the added benefit of pest reduction as more insect predators are encouraged to visit my garden.
Pollinator Friendly Signs
If you live in a neighborhood like mine, your neighbors don't understand about pollinator gardens, wildflower patches or non-grass sections of your yard.
They think you are lazy for not tending to your grass.
I find it is worthwhile to educate the neighbors with garden signs that show that you are doing this on purpose. You might want to do the same, if only to silence your critics.
Related articles you might enjoy:
Suburban Hobby Farmer is a participant in the Amazon Services LLC Associates Program, an affiliate advertising program designed to provide a means for sites to earn advertising fees by advertising and linking to amazon.com.