Updated: November 4, 2020
I first began eating a lot of organic yogurt and Kefir about 30 years ago after seeing a TV interview with the World's oldest man. He said the secret to living to 108 was to eat yogurt every day.
Since then, I could have bought a dairy with what I spent on yogurt. But it wasn't just for the probiotic health benefits. I just like the stuff.
One thing I've noticed over the years and years of buying yogurt is that food companies have increased the amount of thickeners they add to their yogurt products. It's probably because many people don't like watery yogurt.
Let's take a sec to get the legal words out of the way. This article may contain affiliate links. That means if you click and buy from my partners, I will make a tiny amount of money at no cost to you. This in no way affects my recommendations.
As a result, Stonyfield and others add thickeners and fillers to make the yogurt less watery and more "custard-like."
Some companies say that their fillers increase calcium absorption, but I think the main reason for using them is to increase profit. Fillers are cheaper than organic milk and customers like a less watery yogurt.
Beneficial bacteria
Between using fillers and the sterilization of mass production, I have my doubts about how much living beneficial bacterial is in store bought yogurt.
I'm sure there's some, but probably a lot less than the stuff that 108 year old man was eating. He made yogurt himself every day.
So I began to look into making yogurt. One thing that I learned from my research is that making kefir is much easier than yogurt.
Plus, substituting homemade kefir for store-bought yogurt avoids thickeners. It also ensures high amounts of beneficial bacteria and money-saving, too.
Kefir compared to yogurt
If you're not familiar with kefir, it's a cultured milk product that is very similar to yogurt. The main difference is its usually more liquidy.
Typically, it's a drink that's flavored with fruit or chocolate and sold in grocery stores as an expensive beverage − especially if it's organic.
But it's also possible to make kefir as a yogurt-like custard or even a soft cheese if you strain out most of the whey. I had kefir that was just like yogurt this morning and it's almost impossible to tell the difference except that it's probably a little more tangy than yogurt.
Surprisingly, the dehydrated grains worked great.

— Suburban Hobby Farmer
There's also water kefir, but that's a completely different thing. I've never tried it. Maybe I'll write about that subject in the future.
Besides usually being more a liquid than a solid, milk kefir differs from yogurt in another important way: While yogurt is fermented with beneficial bacteria, kefir is fermented with beneficial bacteria and yeast.
This gives it a slightly yeasty smell and makes it taste a little different from yogurt.
As I mentioned, it's easy to make. You just place the kefir grains in milk for 24 hours and the milk thickens up to where it's almost like yogurt.
Then you can flavor it as you would yogurt. If you have your own source of cow or goat milk, it costs next-to-nothing. If not, it's still much cheaper than store-bought yogurt.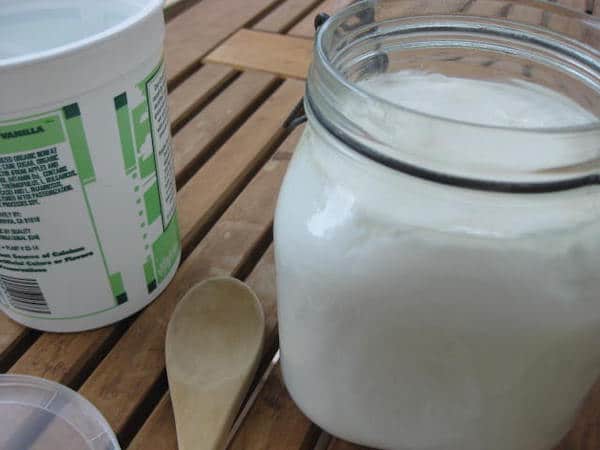 Where to get kefir grains
The only trick is getting started. It can be challenging. You need to get live kefir grains, which look like little soft cheese pieces. These grains can't be out of milk for very long or they will die.
The best way to get grains is to ask someone who is growing kefir to give you some.
I didn't know anyone who was growing kefir, so I considered buying them on eBay. But I was afraid that they would go bad during shipping.
Then I saw that Brookfield Farm, a local CSA, was selling kefir and thought that I could buy some from them. Or at least, they could tell me where I could find them.
But Brookfield said that they don't sell kefir grains and I should get them from Cultures for Health, which is where they get their grains. So I tried that option.
Cultures for Health kefir grains come dehydrated so that they make it through shipping okay. But could dehydration cause a problem?
Surprisingly, the dehydrated grains worked great. I've been making kefir from the original grains for about five months.
To re−hydrate the grains, I just put them in a fresh cup of milk each day for four days and then it was ready. Since then, I've been making a new pint every two to three days. If it's above 72 degrees in the house it only takes about a day. If it's colder, it takes longer.
Cultures for Health offers kefir starter culture, too. The powder makes one batch. You don't need to save the grains.
Starter culture might be easier for you. But in the end, it's more expensive because you have to buy cultures over and over again.
How to make Kefir
Below is a great video from Cultures for Health on how to make milk kefir. In the video they show you how to strain out the grains.
I don't go to that trouble. I just take a little kefir solids and inoculate a new batch of organic milk. Some people claim this doesn't work, but it works for me.
Sometimes I let the kefir ferment a little too long and all the milk is gone. All that's left is curds and almost clear liquid (whey).
When it's gone that far, it's very tart. This is a good time to make kefir yogurt by pouring off the whey. I prefer it when it's at the thick milk stage rather than completely separated. The more milk is left, the less sweetener it needs.
You can flavor your kefir with all kinds of ingredients. I prefer fresh strawberries (or even frozen strawberries) and honey. If strawberries aren't available, I like bananas, honey and maybe a little vanilla. This is great poured over cereal.
Kefir also makes healthy and great tasting ranch dressing. All you have to do is substitute kefir for sour cream in your favorite ranch recipe. I'm partial to dill in my dressing.
Related articles you might like:
Suburban Hobby Farmer is a participant in the Amazon Services LLC Associates Program, an affiliate advertising program designed to provide a means for sites to earn advertising fees by advertising and linking to amazon.com.