Updated: February 15, 2020
Soil temperature for transplanting vegetables is really important to the success of your garden. So why is it common practice for backyard gardeners to decide when to transplant vegetable seedlings by using a date that's the same, year after year, instead of soil temperature?
I don't know.
Some vegetable growers may even wait for a day when the air temperature is warm, and the calendar says it's well past the frost free date. Of course, this is better than blindly picking a day without regard to weather.
But, more often than not, the next few days turn cool. And the soil hasn't had a chance to store up heat. So it's still too cold.
The result is stunted growth (and maybe worse), especially for warm weather plants like tomato and cucumber.
Table of Contents
This is a long, detailed article. You can jump to where you want to be by clicking on the different sections below. To come back to this table of contents, just use the back button on your browser.
Why is soil temperature for transplanting vegetables important?
You took great pains to pick out the strongest seedlings … the best of the bunch … but now that they are outdoors, they're drooping badly and look miserable due to cold soil.
If you're lucky, you have replacement seedlings, but these are not as strong as the originals. So you'll have to make do. (If it sounds like I'm speaking from experience, that's because I am.)
More often than not, you blame the situation on transplant shock, or the cold rainy weather. But the real mistake was not waiting until the soil had stored enough heat. If you had checked the soil temperature and waited for it to be consistently warm, a few cool, rainy days wouldn't have been an issue.
Let's take a sec to get the legal words out of the way. This article may contain affiliate links. That means if you click and buy from my partners, I will make a tiny amount of money. This in no way affects my recommendations.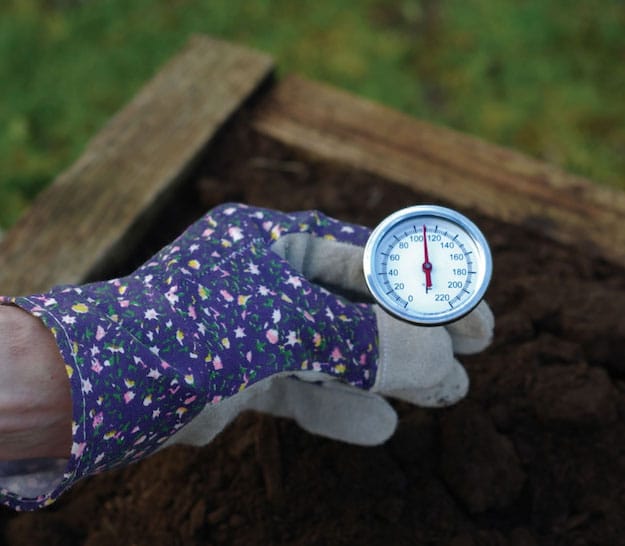 What's the right soil temperature for transplanting seedlings
Truth be told, it's much better to use soil temperature as a guide rather than the calendar to figure out when to transplant warm weather seedlings. You can still get it wrong (if the weather turns bad), but you have a much better chance of picking the optimum planting time if you check the soil thermometer .
And it's important to get it right. Transplanting pepper seedlings, for example, before the soil temperature is 70 degrees F could stunt their growth for the entire growing season.
Using a soil thermometer is easy, and they are not very expensive.
To take proper soil temperature readings, you need to:
Take readings on three consecutive mornings
Sink the thermometer to a depth of four to six inches for transplants and leave it there for three minutes (for most thermometers)
Don't transplant seedlings until the average is high enough
Use the following guide for minimum soil temperatures for transplants:
60 F – tomatoes, cucumbers, snap beans
70 F – peppers, watermelons, squash
75 F – cantaloupe, sweet potatoes
Direct sowing, too
Temperature is also an important factor for direct sowing plants. Here's what's different: You only need to measure at a depth of one to two inches when direct sowing.
Here are the minimum soil temperatures for vegetables that are direct sowed:
35 F – lettuce, spinach and other salad greens
50 F – onions
45 F – radishes
50 F – beets, Swiss chard
60 F – beans, snap and dry
70 F – beans, lima
40 F – peas
60 F – corn
Keep in mind, for most vegetable seeds, a warmer soil temperature results in faster germination.
Soil thermometers
If you need a soil thermometer, here are three models:
Related posts: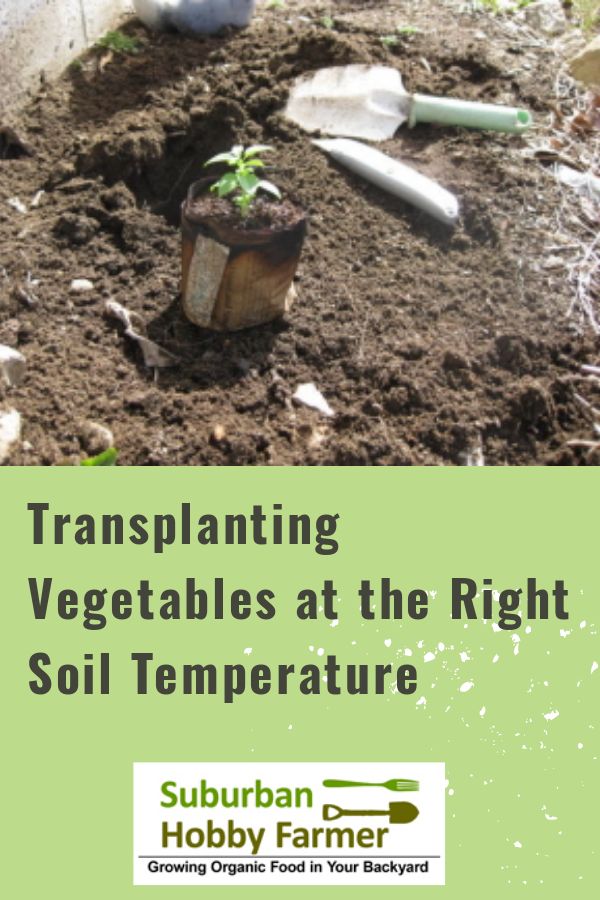 Suburban Hobby Farmer is a participant in the Amazon Services LLC Associates Program, an affiliate advertising program designed to provide a means for sites to earn advertising fees by advertising and linking to amazon.com.