Updated: May 5, 2020
When I was growing up, my mother would plant what she called scallions all the way around the edge of the garden. She did this to repel pests that might otherwise eat the tomatoes, cucumbers and green beans. But, of course, she also wanted to eat scallions, too.
In May, my mother would buy 25 small bulbs for about a half penny each and plant them Memorial Day weekend with the rest of her garden.
Multi-purpose plants
For my mother, these easy to grow onions were the model of efficiency.
First, she believed they had some kind of magical repellent powers against the insects that could potentially ruin her green beans.
Second, around July Fourth, she would begin trimming the green scallion leaves to provide an important ingredient in potato salads, baked potato and a garnish for soups.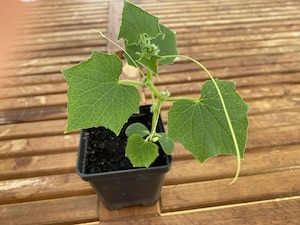 All my seed starting and seedling growing articles in one place.
Third, as the scallion leaves died back, she would dig up the small onion bulbs for eating.
I suspect what my mother called scallions were actually immature onions. This is because they had a bulb and were more slender than scallions.
Even now, a lot of people get confused about the type onion that is eaten for its green leaves.
Scallions are just one type of green onion
In order to set the record straight, here's a primer on the various types of spring onions:
Let's take a sec to get the legal words out of the way. This article may contain affiliate links. That means if you click and buy from my partners, I will make a tiny amount of money at no cost to you. This in no way affects my recommendations.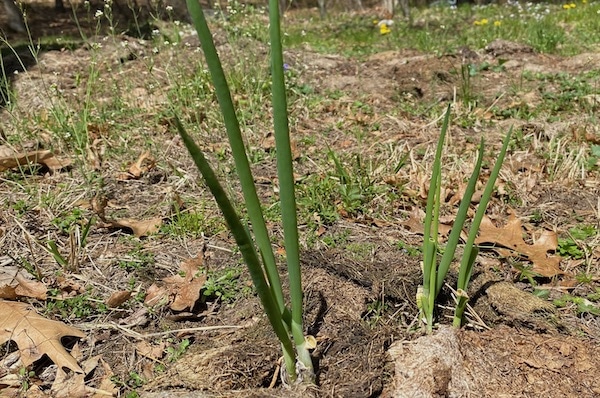 Scallions
You can easily tell the difference between these and the others because they have no bulb. More importantly, they are the mildest of all the spring onions.
You can use them in stir fries, but keep in mind they are very delicate. I find that they are best eaten raw with potatoes, especially in potato salad.
Backyard gardeners plant scallions indoors from seed. Then they transplant seedlings into the garden.
Scallions have a very distinctive look. At the dirt line they start with a white bottom and shoot straight up. Plus, they're thicker than the other onion varieties. You can eat everything except the stringy, white roots.
The nice thing about scallions is they are cut and come again. You can cut off a stock and they will regrow.
Plus, you can overwinter them and they become perennial. But the overwintered plants are stronger tasing, more like regular onions.
If you let them overwinter, they will make seeds for the following year. Cool! If you plant the seeds you will have both overwintered stronger plants plus the new milder ones. That way, you can pick the ones that work for your menu.
You can even take scallions that you buy in the store, cut off and eat the tops, put the roots in a glass of water and they will grow a new stock. But that's not really my thing. I like growing plants in dirt and not liquid. This is because I think soil allows the plant to incorporate micro nutrients that you can't get from water or other liquids.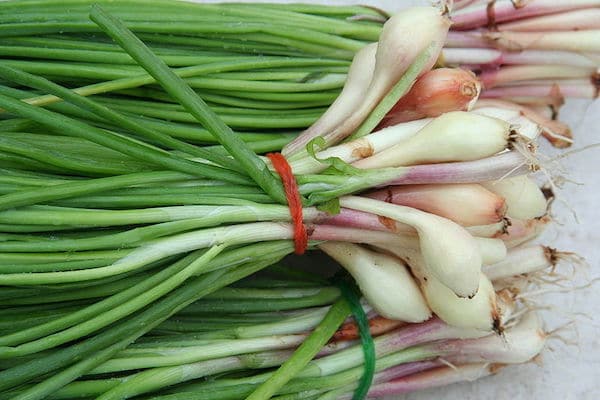 Spring onions
Spring onions are the strongest tasting of the varieties described in this article. You can use them cooked or raw and are bigger than scallions.
Like scallions, spring onions are planted from seed in spring so that you can eat the leaves in the early summer. People often use them as part of a sauté because the raw flavor has slightly more bite than scallions.
They have a small rounded bulb that forms by the end the year. The bulb is not large enough to save as you would a full size onion.
Green or bunching onions
These have a bulb that is smaller than a spring onion but bigger than the "bulb-less" scallion. They are often grown close together and, as a result, are squished into a completely bulb-less form. So they can resemble a scallion.
They are also mild like scallions because gardeners traditionally pick them early in their life, usually after about seven weeks after planting.
Immature regular onions
This is when gardeners harvest ordinary onions before the bulbs are formed, sort of like harvesting new potatoes.
Any variety of bulbling onion can be used in this way. You can also harvest some of the leaves from the onion plant and leave the onion to continue to full maturity.
Related articles you might enjoy:
Suburban Hobby Farmer is a participant in the Amazon Services LLC Associates Program, an affiliate advertising program designed to provide a means for sites to earn advertising fees by advertising and linking to amazon.com.