Updated: January 21, 2020
A lot of people think that growing organic apple trees is impossible. While it's not impossible, it is labor intensive to get clean apples without pesticides.
But it's worth the effort. In my view, few pleasures are as guilt free and enjoyable as an organic, heirloom dessert apple.
This article will show you how to get clean organic apples that you can enjoy as much as I do.
Let's take a sec to get the legal words out of the way. This article may contain affiliate links. That means if you click and buy from my partners, I will make a tiny amount of money at no cost to you. This in no way affects my recommendations.
Why organic apple trees
I've been fortunate to be around apple trees for most of my life. When I was four, my parents built their house in the middle of a small, backyard orchard in southern Maine.
The next door neighbor, who sold us the property, showed my father how to spray pesticides on the remaining Cortland, Macintosh and Red Delicious trees so that the bugs wouldn't destroy the apples. He also clearly instructed my father not spray the trees when the blossoms were open.
I'm not sure why, but my father decided not to listen. I remember the day my father made the mistake of spraying while the blossoms were open, killing lots of honeybees from our neighbor's hives.
After that, I always wondered if there was a way to grow organic apple trees.
When I planted my own trees, I selected disease resistant Redfree and Enterprise varieties. I hoped I could find a way to grow without spraying.
I tried a number of integrated pest management (IPM) techniques, but didn't have any success. It wasn't until I heard about the strange technique of covering apples with, of all things, footlets that I finally had some success.
If you don't know what I mean by footlets, they are the little disposable socks that department stores give sock-less people when they want to try on shoes. They look like short panty hose.
How it works
To get clean apples it's really pretty simple, but also labor intensive. Here's what you do:
Prune all but the best apple from each cluster when apples are dime to nickel-sized.
Cover the apple with the footlet as if you were putting it on your foot.
Wrap the excess material around the stem.
Tuck the excess under the wrap so that it forms a not-to-tight knot and stays on.
Footlets are cheap
Footlets are pretty inexpensive, and if you are careful you could probably reuse them if they don't get stretched out.
The important thing is to cover them before the bugs get to them. Apple curculio starts pretty early.
You should try to cover all the apples. If you can due this, you might be able to cut down on the problems in future harvests by stopping the propagation of pests and diseases.
Bugs often need to lay eggs in the apples to propagate. So if they can't reach the apples they can't reproduce.
One lesson I've learned is that in order to cover all the apples, you have to make sure the tree is properly pruned. Otherwise, it's impossible to reach the interior apples without breaking apple-bearing branches.
Also, a properly pruned tree will allow for better air flow, which is more important with this method. The apples stay wet longer because footlets don't dry out as fast. Wetness equals increased chance of disease.
Related: Read my article on pruning at Nine Guidelines for Pruning Apple Trees.
Some people remove the footlets about two weeks before the apples are ripe to let the natural color develop. Otherwise, most varieties will stay mostly green.
I leave them on because squirrels, chipmunks and deer are less likely to take a bit out of the covered apple. I still find a few apples with bites, but the squirrels don't like the taste of the footy so they don't return unless they are really hungry. Most years, I loose about three apples to squirrels when the footlets are on.
Here's a short video of how to put the footlets on the apples:
Related posts: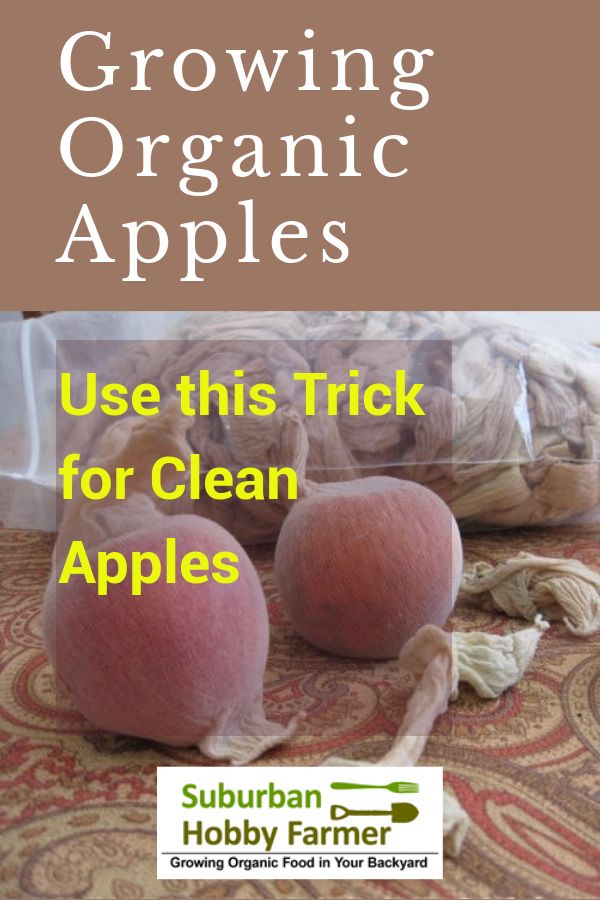 Suburban Hobby Farmer is a participant in the Amazon Services LLC Associates Program, an affiliate advertising program designed to provide a means for sites to earn advertising fees by advertising and linking to amazon.com.