Lettuce is ideal for the fall garden. The cooler temperatures in autumn sweeten the lettuce. Plus, as the frost approaches, there are fewer bugs around to eat it.
The best lettuce I ever tastes was fall grown lettuce where the night temperature dropped to 45 degrees Fahrenheit.
The only tough part of growing lettuce in autumn is getting it to germinate in the summer heat. Other leafy greens like spinach are even tougher to start in the heat.
In most areas, if you want to grow lettuce in the fall, you have to start growing in the middle of August. With global warming, however, many start dates are moving later and later.
Let's take a sec to get the legal words out of the way. This article may contain affiliate links. That means if you click and buy from my partners, I will make a tiny amount of money at no cost to you. This in no way affects my recommendations.
Here's a five-step plan to make it easy to grow lettuce in autumn, as well as two advanced techniques for the very best best backyard lettuce garden ever:
Step #1. Determine which varieties you want to grow.
Your two main options are growing head lettuce or cut and come again leaf lettuce. In the fall, I like to grow the latter.
With frost about to enter the picture during the late fall, it makes more sense to me to have the option to cut it as soon as it is ready, rather than wait for the head to mature.
Besides, I like leaf lettuce better than head lettuce. So I guess that's the real reason for my selection.
Related: Pre-sprouting Small Seeds
When I say lettuce, I mean a number of salad greens. In addition to true lettuces, I also grow arugula, beet greens and spinach.
Most varieties of lettuce, spinach and beets handle slightly freezing temperatures pretty well. Arugula (at least the variety I grow) a little less so.
Arugula (a.k.a., rocket), if you haven't tried it, is a little bitter-peppery tasting. But it's more mild in the cooler temperatures.
For lettuce, I grow:
Related: Can You Plant Potatoes in Autumn?
Keep in mind that it's sometimes difficult to find lettuce seeds in the middle of summer. You may need to purchase them online.
Step #2. Determine your average first frost date and calculate when to plant.
Figuring when to plant is a little tricky. If you pick a planting date that is too soon, it will be too hot and dry, and you'll have trouble keeping the seeds moist.
To pick a planting date, use the maturation time for lettuce from the instructions on the seed packet.
For example, if the seed packet says lettuce is ready 28 days after planting, add 10 days (a buffer) to the 28 to get 38 days. Then plant at least 38 days before the average last frost date.
A 10 day buffer is a lot, so if you plant a little latter, that will probably be OK.
If you don't know your average last frost date, see this article on Planting Dates Calculators to help you figure it out.
My average first frost date used to be September 17. With global warming that date is now probably October 10.
Black Seeded Simpson lettuce is ready to harvest in as little as 45 days or less. So my planting date is around the third week of August.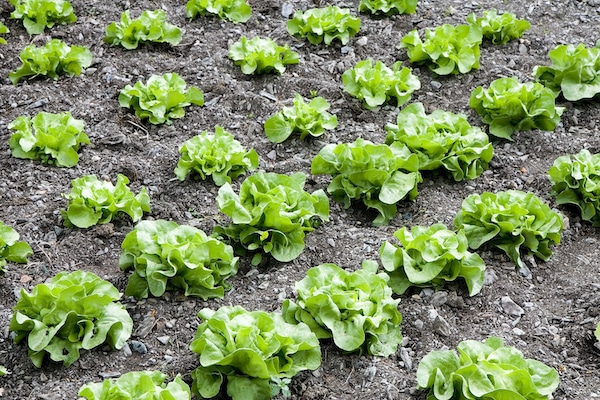 If you were planting in the spring, I would suggest that you succession plant.
By this I mean plant a few batches than wait two weeks … plant a few more batches than wait two more weeks … and so on.
This will protect you from having too much lettuce all at once. It also spreads out the risk of bad weather like a freak thundershower that washes away your seeds or a heat wave that stifles germination.
But the time you have for growing lettuce in the fall is limited. So you may want to plant your entire crop at one time.
Lettuce germinates best at a soil temperature between 70 to 75 degrees Fahrenheit.

— Suburban Hobby Farmer
If you are planning to use any kind of season extenders (e.g. hoop houses, row covers, cold frames) consider the temperature boost in your calculations.
Obviously, season extenders will allow you to plant later in the summer or maybe even early fall. This likely will improve germination rates and keep lettuce coming until later in the season. More on row covers further down in this article.
If you really want to know a lot more about growing lettuce in cold weather using season extenders, Eliot Coleman is one of the leading authorities. See my review of his book at the Winter Harvest Handbook.
Step #3. Prepare the soil.
Lettuce likes moist, well-drained soil. High amounts of organic matter will help keep the soil moist. This is especially important when planting in August when it could be very hot.
Since I add home made compost to the soil, and it has a ton of weed seeds in it. So I try to get the weeds to germinate before I plant.
To do this I just water the soil before putting the seeds down.
The weed seeds will sprout in a day or so. It's much easier to get rid of weeds before the lettuce is planted.
Pulling weeds that are next to the fragile lettuce seedlings can damage their roots.
My problem is that at the end of July, I'm typically still growing something else where I'd like to grow lettuce. This year it's green beans.
So preparing the soil will need to wait until the green bean harvest is over. I could run out of time.
Step #4. Plant the seeds.
You should follow the directions for planting from the seed package. Varieties differ on the depth of planting.
The biggest barrier to seed germination in late summer and early fall is keeping the soil moist and cool. Lettuce germinates best at a soil temperature between 70 to 75 degrees Fahrenheit.
Soil that is warmer or dryer may make it difficult to get enough germination.
Spinach likes the soil temperature even lower.
So how do you cool the soil enough to promote germination? One of the best strategies is to shade the area completely until the seeds germinate … and maybe shade it some a while after.
Another strategy is to mist cold water during the warmest part of the day. This can help, especially since your other problem will be keeping the soil moist.
Some people go so far as to mix the seed in peat and sand and store the seeds in the refrigerator to bring down the temperature just before planting.
But this is too much work for me. Plus, I'm not sure it will really help.
Step #5. Grow and harvest.
As the seedlings grow, you will want to thin the leaf lettuce to six inches apart, romaines to 10 inches and heading varieties to 12 inches.
One of the most difficult tasks with growing lettuce is to keep weeds down. Lettuce doesn't compete well with weeds.
Chopped leaves or other organic mulches can help with weeds and conserve soil moisture, too. Or it could make it worse if the leaves have a lot of weed seeds mixed in.
Advanced techniques
If you're willing to put in a little more effort, there's a couple of things you can do to improve your chances of getting the best lettuce crop ever this fall.
You can:
Presoak seeds and plant in soil blocks.
Cover lettuce with row covers.
Soil blocks
You can get a great head start on growing lettuce in the fall by planting indoors in soil blocks. Planting indoors this way improves your germination rate and gives you the ability to control exactly where the plants end up.
Starting lettuce inside allows you to completely control the temperature and moisture. This can be a real advantage when the August temperatures are still blazing, but you must plant to get leafy greens before frost.
Presoaking allows for a nearly perfect germination rate, especially since you are planting in sterile seed starting mix.
Here's how you do it:
Moisten a paper towel and put it in a plastic container, e.g., one of those plastic lettuce containers from the grocery store works well. The paper towel should have as much moisture as a wrung out sponge.
Sprinkle seeds on top of the towel in the container. Try to make it so they are not touching.
Top the seeds with a second, moist paper towel. Close the lid of the container.
Watch the seeds closely. As soon as even a little root appears, place them on a previously made soil block. Do not bury, just put them on top.
Keep the soil blocks moist by watering from the bottom. Don't water from the top or move the seeds around in the block because this will damage the roots.
Wait until the first leaves appear. Then put them in bright sun. This is so they don't get leggy. Care must be taken to make sure they don't overheat.
Watch the seedlings to make sure they don't dry out. Dry lettuce at this stage will die quickly.
Transplant the seedlings outside when the lettuce has its second leaves and high temperatures are in the middle 70s (degrees Fahrenheit). Again, the plants are fragile with little root mass. Be careful not to let them overheat.
If you have a good soil with high nitrogen, you can plant the soil blocks close together, even touching. If your soil is not so good, you will want to leave some space to let the roots spread out and find nutrients.
Row covers
When the weather turns really cold and you want to protect your leafy greens from frost, you can use row covers. This will allow you to keep your lettuce alive longer and enjoy a better harvest.
Lettuce and especially spinach can tolerate temperatures in the 20s (degrees Fahrenheit), as long as the wind isn't too bad.
Row covers protect your leafy greens from wind and even light snow in some cases. They may also hide them from deer and ground hogs if you are lucky.
Eating is my favorite!
Here's a recipe for salad dressing that I like:
Oil & Vinegar Salad Dressing
1 TABLEspoon Dijon-style mustard
1/4 cup finely chopped scallions
2 TABLEspoons white vinegar
1 TABLEspoon water
2 teaspoons honey
pinch of salt and pepper
4 TABLEspoons olive oil
My daughter prefers ranch:
Ranch Salad Dressing
1 Cup Mayo (Better if you make your own from your eggs)
1/2 Cup Sour Cream
1/2 TEAspoon Dried Chives ( I use fresh, too)
1/2 TEAspoon Dried Parsley
1/2 TEAspoon Dried Dill Weed
1/4 TEAspoon Garlic Powder
1/4 TEAspoon Onion Powder
1/8 TEAspoon Salt
1/8 TEAspoon Ground Black Pepper
In large bowl, whisk together the mayo, sour cream chives, parsley, dill, garlic powder, onion powder, salt & pepper. Cover and refrigerate for 30 minutes before serving.
Related articles you might enjoy:
Suburban Hobby Farmer is a participant in the Amazon Services LLC Associates Program, an affiliate advertising program designed to provide a means for sites to earn advertising fees by advertising and linking to amazon.com.